If you weren't a believer that the Alabama dynasty ended when Chris Davis took a missed field goal back 109 yards to end last season's Iron Bowl or Oklahoma wrecked shop in the 2014 Allstate Sugar Bowl, you should be now.
The Alabama dynasty is dead, and Ohio State head coach Urban Meyer nailed the coffin shut.
The Buckeyes topped the Crimson Tide 42-35 in the 2015 Allstate Sugar Bowl national semifinal on Thursday night, ending head coach Nick Saban's quest to win his fourth national title since 2009 and furthering the woeful performance by the SEC in bowl games this season (5-5).
Saban: "You don't have to get a trophy to be a winner." Is the Nicktator mellowing?

— Dan Wolken (@DanWolken) January 2, 2015
Meyer's Buckeyes hit all of Alabama's defensive weak spots in the game.
As was the case against Missouri, Auburn and pretty much every other game over the past two seasons, the Crimson Tide pass defense was lit up like a Christmas tree in obvious passing situations.
Third-string quarterback Cardale Jones completed 18 of 35 passes for 243 yards, one touchdown and one interception, with three of those completions coming in situations of third down and more than seven yards. According to ESPN's postgame show, 153 of those yards came on third downs of any distance.
As SiriusXM's Tim Brando notes, it wasn't new, it was par for the course:
Alabama's defense lacks the BIG TIME pass rusher, and lacks the shutdown corner they've had in the past. Buckeyes outplaying the Tide now!

— Tim Brando (@TimBrando) January 2, 2015
A running quarterback?
Yep, Jones checked that box too.
Meyer's Buckeyes converted 10 of 18 third downs, with four of those coming via Jones' ability to make plays on the ground. The sophomore from Cleveland rushed 17 times for 43 yards with a long of 27, and he was nearly unstoppable once he got to the second level.
Tempo?
It's not like Ohio State was doing an Oregon impression out there, but it did run 50 plays in the first half, which contributed to its 14-point second-quarter charge.
Susceptibility to the deep pass, mobile quarterbacks and an emphasis wearing the defense down? Those have been the concerns for Alabama for two years, and until they're consistently fixed, Alabama won't get back to a level it enjoyed during the early days of the Crimson dynasty.
Football isn't going to regress.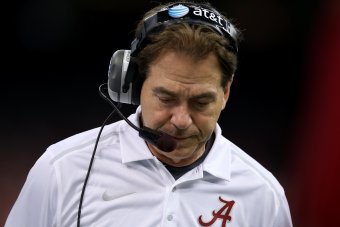 Chris Graythen/Getty Images

Alabama head coach Nick Saban
Those three factors have become very apparent for the past couple of years, and it's not like offenses are going to slow down and quarterbacks are going to stop running and not test Bama deep now that its problems have been exposed on big stages in each of the past two seasons.
The four-year run from 2009-2012 that saw the Tide hoist three crystal footballs was impressive, but Saban knew he had to change. That's why offensive coordinator Lane Kiffin was brought in last offseason, but the changes on defense have been a slower progression
As Brian Hamilton of Sports Illustrated noted before the game, it was defensive coordinator Kirby Smart who knew Alabama's primary issues weren't fixed:
#Alabama DC Kirby Smart on defending tempo: "We've exposed our guys to it this year more than ever. And we still haven't done enough."

— Brian Hamilton (@BrianHamiltonSI) December 28, 2014
A dynasty is considered a powerful group of people who maintain their position for a considerable period of time. That's not Alabama. At least, not anymore.
Instead of being proactive, Alabama has turned into a reactive program. It is spinning its wheels. It has been forced to change its identity and hasn't developed a new one yet.
Until that identity is fully developed, games like Thursday night's Sugar Bowl loss are going to continue happening. There's blood in the water, and the college football sharks are circling.
Barrett Sallee is the lead SEC college football writer and video analyst for Bleacher Report, as well as a co-host of the CFB Hangover on Bleacher Report Radio (Sundays, 9-11 a.m. ET) on Sirius 93, XM 208.
Quotes were obtained firsthand unless otherwise noted. All stats are courtesy of cfbstats.com, and all recruiting information is courtesy of 247Sports. Follow Barrett on Twitter @BarrettSallee.