TUSCALOOSA, Ala. — There was a time when Jalston Fowler thought none of this would be possible.
After sustaining a knee injury against Western Kentucky in the second game of the 2012 season, Alabama's big, bruising running back considered leaving football altogether, with a painful rehab in front of him.
"I mean, back when I was in a relationship with my girlfriend, she had to just keep me going, keep me positive through the whole thing," Fowler remembers over two years later. "Family and friends, too. Now that I look back on it, I'm happy that I didn't."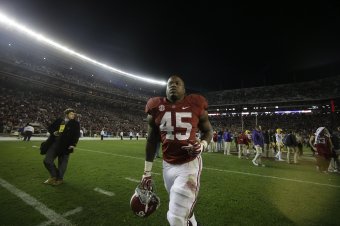 Butch Dill/Associated Press

Now, Fowler—or "Nudie," as Alabama coach Nick Saban and his teammates call him—is one of the most versatile players on the Alabama offense. The ever-smiling Fowler is a fan favorite who was voted a team captain by his teammates. The Prichard, Alabama, native earned his master's degree over the weekend.
He's been the unsung hero for Alabama during his career, and his story is one that has even made Saban reflect on his famous "process."
"When I see guys like Jalston Fowler who have matured and progressed here from sort of being a young guy coming in that had a lot of ability but now has matured into a fine young man who has graduated, has goals and aspirations for himself, does things the right way, affects other people in the right way, that's what makes me believe the process works," Saban said before the 2014 season.
"When you have guys that haven't been in the program that make some mistakes, do the wrong thing, you get frustrated. But when you see the guys that have been here and gone through it, you see how they've matured through the years and what they've become, it really makes me feel like, 'Hey, the process works.'"
Fowler was recruited to Alabama as a running back, but carrying the ball won't be what he's remembered for.
In 2013, his first season back from his knee injury, then-offensive coordinator Doug Nussmeier used him primarily as a fullback and an H-back. He was a lead blocker for T.J. Yeldon and Kenyan Drake but was at his most effective as a receiver.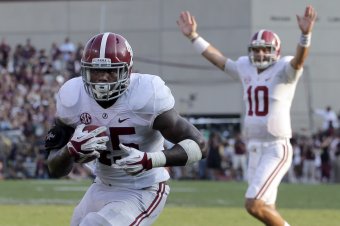 Eric Gay/Associated Press

His signature play was a play-action swing pass on the goal line that he executed to perfection. He caught a touchdown against Texas A&M in 2013 that sealed the win in one of the biggest games of that college football season.
Fowler's stat line from that year reads seven catches for 15 yards…and five touchdowns.
When Lane Kiffin was hired, he—like he has for so many players on this roster—found even more creative ways to use the 6'1", 248-pound Fowler's talents.
Fowler has lined up just about everywhere on the field except under center.
He's carried the ball a handful of times. He's played the fullback/H-back role, lead-blocking again for Alabama's stable of running backs. His signature play hasn't gone anywhere, catching two scores on the goal line.
But Fowler has been split out wide on a number of occasions. It's mostly been as a decoy or as a blocker on screens for faster players like Amari Cooper or DeAndrew White.
Take this stat from TideSports.com's D.C. Reeves from the SEC Championship Game:
Jalston Fowler lined up wide or in the slot 8 times in the first quarter. Just waiting for that vertical TD bomb in the national title game.

— D.C. Reeves (@_DCReeves) December 8, 2014
So it's clear that Kiffin has found a multitude of uses for Fowler. In the spirit of Christmas, Kiffin, as Fowler explains, is "just having a little bit of fun with the offense, with all his toys."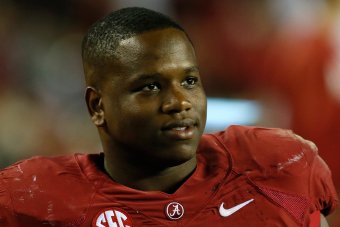 Kevin C. Cox/Getty Images

So which toy is Fowler?
"I'm the big dump truck," he says, once again flashing that contagious smile.
Fowler hasn't made the eye-opening plays that Cooper or Yeldon routinely make, but he's beloved by his teammates all the same.
He's played a small role for a big guy but a role that has been critical nonetheless. And he's earned recognition from his teammates because of it.
"Jalston's a great teammate, great leader," Derrick Henry said. "When we get in the game, it's easy for him. It's nothing he can't do. That's what we expect out of him."
Marc Torrence is the Alabama lead writer for Bleacher Report. All quotes were obtained firsthand unless otherwise noted.
Follow on Twitter @marctorrence.