On Wednesday, Alabama wide receiver Amari Cooper has a chance to open some eyes at the Alabama pro day. Typically, pro days serve mid-tier prospects more than the elite, because so many teams are in attendance it gives them an up close look at the players from a specific school. But does Cooper need a big pro day? He's already considered a top prospect.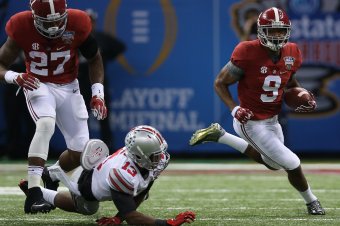 Kevin C. Cox/Getty Images

The answer is a definitive yes. In fact, of all the top prospects in this draft, Cooper might be the one who needs a big day more than any other. The reason being that for the talented Crimson Tide star, his status as the top wide receiver in the draft is tenuous.
What's the difference between being the first wide receiver off the board and the second? It's hard to be certain, but there's a real chance that the Oakland Raiders take a wide receiver with pick No. 4. After that, the next likely landing spot for a wide receiver would be the Chicago Bears at No. 7, but more probable are the Minnesota Vikings at No. 11.
There's a significant difference between being the No. 4 pick and the No. 11 pick, so it would behoove Cooper to fend off West Virginia's Kevin White with a big pro day.
Cooper's talent is not in question. In terms of route running, Cooper is the best in this draft class, and he would have been among the very best of the past two drafts. As this Vine shows, Cooper's ability to shake his defender at the line of scrimmage, then stick his foot in the dirt and square the route is elite.
Amari Cooper route running is icy