TUSCALOOSA, Ala. — Most years, Alabama's game against Mississippi State comes at just the right time.
The Crimson Tide are emotionally and physically drained from playing LSU. The Tigers give Alabama everything they have and, win or lose, it takes a toll.
So playing what is usually an average or below-average Mississippi State team works out, since Alabama can afford a little bit of a sloppy game and still come out on top before resting up for the Iron Bowl.
Not this year.
At least for now, Mississippi State is the king of the SEC, the conference's only undefeated team and one of just two among all power-five programs.
It's beaten LSU, Texas A&M and Auburn, putting the three away with relative ease. Its quarterback, Dak Prescott, is a legitimate Heisman Trophy contender and its defense is salty up front.
Simply put: Alabama can't afford its traditional post-LSU hangover this year.
The LSU letdown is very real. Andrew Gribble of AL.com provided some context:
Just how real is the LSU hangover? Alabama hasn't scored a 1st quarter TD in the game directly after LSU since Saban was hired.

— Andrew Gribble (@Andrew_Gribble) November 10, 2014
A closer look at the numbers shows a similar pattern. At least on offense, Alabama struggles out of the gate the week after facing LSU.
Alabama post-LSU last five years

| | | | | |
| --- | --- | --- | --- | --- |
| 2013 | Mississippi State | 383 (454.0) | 5.89 (7.15) | 20 (38.2) |
| 2012 | Texas A&M | 431 (445.5) | 6.63 (6.95) | 24 (38.7) |
| 2011 | Mississippi State | 386 (429.6) | 5.68 (6.46) | 24 (34.8) |
| 2010 | Mississippi State | 452 (444.1) | 7.66 (6.96) | 30 (35.7) |
| 2009 | Mississippi State | 444 (403) | 7.66 (5.96) | 31 (32.1) |
cfbstats
This occurs for a variety of reasons. When asked how he felt after Saturday's win, right tackle Austin Shepherd's answer was simple. "Like you were hit by a Mack truck," he said. "Sore everywhere."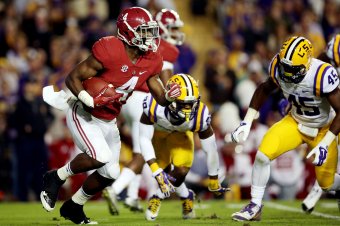 Chris Graythen/Getty Images

LSU's defense matched Alabama pound for pound up front and in the secondary, giving the Crimson Tide little room to operate. LSU held Alabama to its lowest yards-per-play output of the year at 4.2.
It's always a physical fight that wears on the players.
That's where Mississippi State, in the past, has come in.
Alabama has played the Bulldogs following LSU in all but one year under Saban. Only once has Mississippi State been ranked at the time the two met. It's given Alabama a little bit of leeway to have an off game.
It can't afford that this year and will have to bounce back quickly. That's where the mental part comes in.
"Of course it was a hard-fought game, a hard, tough, physical game," wide receiver DeAndrew White said. "Everybody is sore from that game. I say we've got to bounce back mentally from our body being sore, don't want to practice and stuff like that. We've got to have a great week of practice and preparation for this game."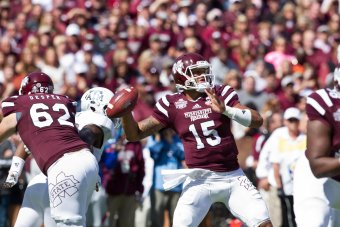 USA TODAY Sports

A classic LSU letdown could spell bad news against a very good and dangerous Mississippi State team.
That's why Alabama coach Nick Saban didn't want to talk about any kind of rest in the lead-up to a huge game in the Crimson Tide's season.
"We have a tough game coming up, so we need to be thinking about what we need to do to beat this team," Saban said. "They do a lot of things differently. This is a tough preparation based on what they do as a defense and as an offense. I think our players have to focus on, this is going to be a tough game and I don't know that you can prepare for a tough game by worrying about—you've got to have some tough practice because that's how you play well against those kind of teams.
"We had a bye week and we just played a game and we're going to have to bounce back and respond and get ready to play probably the most physical game we've played all year."
Marc Torrence is the Alabama lead writer for Bleacher Report. All quotes were obtained firsthand unless otherwise noted.
Follow on Twitter @marctorrence.