TUSCALOOSA, Ala. — Statistically speaking, Missouri isn't that spectacular of a team.
The Tigers rank between Nos. 8 and 12 in the SEC in the four major offensive categories (scoring, rush, pass and total) and are somewhere between Nos. 4 and 6 in each those respective defensive stats.
If you're looking for a reason for their success while being generally in the middle of the pack in the major statistical categories, you could point to their protecting the ball: Missouri has lost only 13 turnovers this season.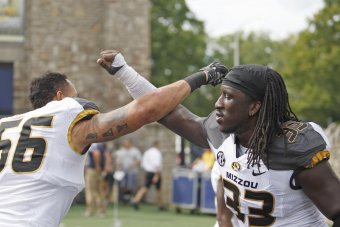 USA TODAY Sports

But there's one thing that Missouri does really well: get to the quarterback.
It leads the SEC in total sacks with 38. That puts the Tigers just in the top 10 nationally, tied with Louisiana-Monroe at 10.
Defensive ends Shane Ray and Markus Golden are the unquestioned leaders of that pass-rushing unit. Ray has notched 12 sacks on the year, while Golden has 8.5. That puts them at Nos. 1 and 6 in the SEC, respectively.
The Tigers get after the quarterback with reckless abandon, a reason why their defensive numbers are better than their offensive ones.
It's also why Alabama quarterback Blake Sims' legs will be the X-factor in the 2014 SEC Championship Game.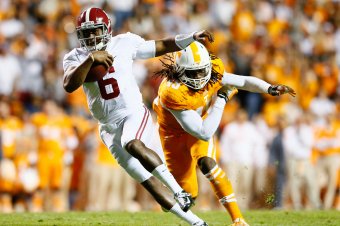 Kevin C. Cox/Getty Images

Running is a major part of Sims' game. His ability to extend plays and make something happen when pass plays break down is something Alabama hasn't had under Nick Saban. He hasn't had to rely on it heavily lately, but he likely will have to on Saturday.
Sims used his scrambling ability much more often and effectively earlier in the year as the offense was adjusting to new coordinator Lane Kiffin.
In the first eight games of the season, he passed the 40-yard rushing mark five times. In one of those three games that he didn't, Alabama lost to Ole Miss. The next week, he rushed seven times for just five yards in a close win over Arkansas.
Alabama's offense is at its best when Sims can make a couple of plays with his feet.
Take his touchdown run against Texas A&M, for example:
And he's been making critical plays for Alabama down this brutal SEC stretch run that has the Crimson Tide in position to play in the inaugural College Football Playoff.
Sims had a third-down rush that picked up a first down on Alabama's late game-tying drive at LSU. He had two rushes of at least 10 yards that both picked up first downs late against Mississippi State on Alabama's drive that put the game away. And his 11-yard touchdown run against Auburn gave Alabama its fourth-quarter lead that it held for good.
Sims hasn't been called on as much late in the season, but he's come through when he's been needed to.

Kevin C. Cox/Getty Images

And he might have to do that a couple of times on Saturday.
Missouri has been very good at getting to mobile quarterbacks.
It took down Tennessee's Josh Dobbs six times, Florida's Treon Harris five, South Carolina's Dylan Thompson four and UCF's Justin Holman six.
The Tigers' athletic front can make up for some of the speed and moves that athletic quarterbacks present.
To make matters a little more complicated for Alabama, the status of its star left tackle, Cam Robinson, is still up in the air. Robinson sustained a shoulder injury against Auburn and has been limited in practice this week. He will likely be a game-time decision.
It will put even more pressure on Sims to make plays with his legs, to neutralize the one thing that Missouri does really well.
Marc Torrence is the Alabama lead writer for Bleacher Report. All quotes were obtained firsthand unless otherwise noted. All stats come from CFBStats.
Follow on Twitter @marctorrence.