Three weeks into the 2014 season, Alabama coach Nick Saban has steadfastly refused to name a starting quarterback between Blake Sims and Jake Coker.
But following the Crimson Tide's 52-12 drubbing of Southern Miss, it is clear that Saban really doesn't need to. Saban and offensive coordinator Lane Kiffin's division of playing time says it all: Sims is the guy.
Sims completed 12 of 17 passes for 168 yards and two touchdowns, while Coker hit on five of seven for 46 yards. AL.com's Andrew Gribble questioned the quarterback competition via Twitter during the third quarter:
We're midway through the 3rd quarter and Blake Sims is the only QB to play. Is the competition over?

— Andrew Gribble (@Andrew_Gribble) September 14, 2014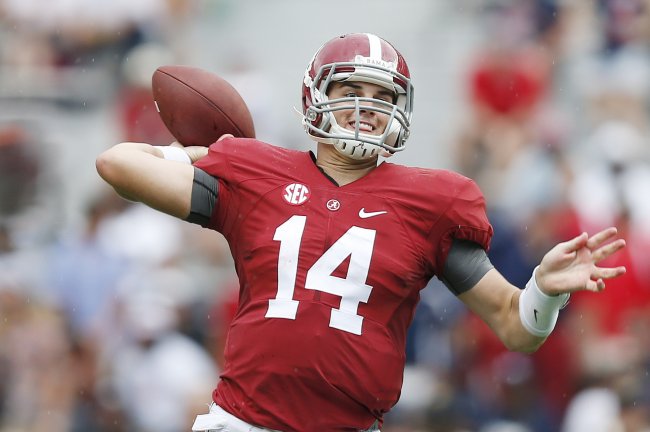 Brynn Anderson/Associated Press

Jake Coker appears to have lost Alabama's quarterback battle to Blake Sims.
Alabama's usage of Coker was telling. The Florida State transfer didn't enter the game until 2:10 remained in the third quarter, with the Tide holding a comfortable 35-9 lead.
He played the final three drives, all of which ended in scores, with a field goal and a pair of rushing touchdowns.
Entering Saturday's game against Southern Miss, Saban said he didn't have a set plan for the quarterbacks' usage in an interview on the SEC Network's SEC Nation (via AL.com's Andrew Gribble).
I don't think we have a specific, "OK, you're going to play this long and the next guy's coming in." I think we want to play both guys in the game if we can. Last week I had a specific plan for it. Today, I think we want to just sort of see how it goes.
How did it go? Sims took control or at least did enough to keep his bosses happy. D.C. Reeves of TideSports.com provided a comparison between Sims and AJ McCarron regarding stats after each player's first three games as the starting quarterback:
Blake Sims first 3 games as starter: 48-64 (75%) 646 yards, 4 TD, 1 INT.
AJ McCarron first 3 starts (68.4%): 65-95, 779 yards, 4 TD 2 INT.

— D.C. Reeves (@_DCReeves) September 14, 2014
Sims averaged a pedestrian 9.9 yards per attempt Saturday, with his longest completion a 27-yard pass to Amari Cooper. That's Sims' game: He doesn't do anything spectacularly, but he hasn't done anything to get Alabama beaten. Saban said as much on SEC Nation:
I think consistency and performance is important at any position, and especially at the quarterback position because you distribute the ball every down.

Blake obviously has been in the system a lot longer. Probably a little more comfortable, a little more confident. Jake is learning and improving all the time in terms of what is expected of him.

We're just going to keep trying to develop both guys. Both guys really do encourage each other and I think our team has confidence in both guys.
Afterward, he told reporters that the quarterback position remains "week to week" and that Coker "needs to play," as reported in a tweet by TideSports.com:
Saban: It didn't feel right to make a change. Jake needs to play and develop confidence. Decision will be made on week to week basis.

— TideSports.com (@TideSports) September 14, 2014
Sims might not have a long leash on the position, and it is certainly within the realm of possibility that Coker could have another chance at the role if Sims struggles with SEC defenses, starting with Florida next week.
But for now, it is clear that Sims is the Crimson Tide's guy under center—without a doubt.