TUSCALOOSA, Ala. — Lane Kiffin's Alabama career could almost be summed up by three GIFs and Vines.
There was Alabama's touchdown to Kenyan Drake against Florida, Kiffin's first "wow" moment as an offensive coordinator:
"Ahh, geez" http://t.co/RsQTump6dr https://t.co/LO7SlIf5Cy

— SB✯Nation CFB (@SBNationCFB) September 20, 2014
There were his fist bumps with Alabama players after an early touchdown at Tennessee:
Lane Kiffin's daps blowing up like: pic.twitter.com/GNaPNY2g2r

— D.C. Reeves (@_DCReeves) October 25, 2014
And then there was the Vine heard 'round the Iron Bowl, where Kiffin throws his hands up in celebration well before Blake Sims even let go of a 39-yard touchdown pass to Amari Cooper:
#Alabama OC Lane Kiffin Signals TD before The ball is thrown https://t.co/ZD5psIiX4k

— BamaVine (@RTRnews1) November 30, 2014
Those three moments almost perfectly encapsulate Kiffin's brief time in Tuscaloosa: his brilliant play-calling and scheming; his ability to relate to his players in a way few coaches can; and his brash confidence that everything he does will work.
It's created a perfect storm on offense for Alabama this season that's allowed it to have one of the most prolific years in school history. The Crimson Tide's offensive weapons are getting the ball, sometimes in creative ways. There's no question the Lane Kiffin experiment has been a success.

USA TODAY Sports

And it's gotten his players' attention. Even they've seen those moments.
"He brings a lot of energy," center Ryan Kelly said. "That little thing on Vine that's been going viral, he's so excited. He's a great offensive mastermind. I think that's why he was so excited. He knew it was going to work. He's got all the confidence in all 11 guys he has out there on offense. To play for a guy like that, it's great. It builds momentum for the offense the entire game."
You don't have to go too far back to remember a time when Alabama's offense was known for clamming up and getting too conservative at times.
Fair or not, under offensive coordinators Jim McElwain and Doug Nussmeier, the Crimson Tide were known for a steady rushing attack with some play action and other passes thrown in.
That perception couldn't be more different under Kiffin.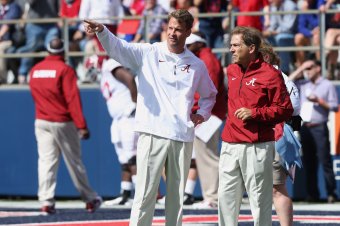 Joe Murphy/Getty Images

"I've been begging the offensive coordinators around here to open it up since I've been here," Saban lamented the Monday after an offensive explosion against Florida. "Jimbo Fisher was the best offensive coordinator I've ever had that ever did what I wanted to do. And everybody wants to run the ball. Now, we've always had a very good team to run the ball. And we had a very good defense, and it was really smart to play the way we played.
"Now, we have more skill players that are good perimeter players, and I think we are doing what we need to do on offense to take advantage of that. Lane does a really, really good job of taking advantage of what players can do. I think that has benefited us so far this season."
Setting aside the crazy notion that Saban couldn't get somebody on his staff to do something he wanted, it's easy to see why he could have been frustrated.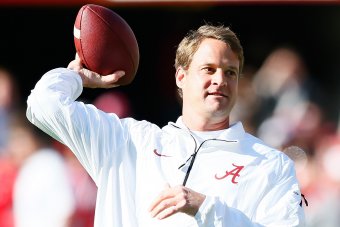 Kevin C. Cox/Getty Images

He's had weapons like Julio Jones and Amari Cooper and other explosive skill players with capable quarterbacks to get them the ball. It was a detriment that cost Alabama at times, like in the 9-6 overtime slugfest Alabama lost to LSU.
Kiffin hasn't succumbed to that pressure to keep things conservative. He's opened up the offense and resisted the temptation to go into a shell when things aren't going well.
The Auburn game was a perfect example.
He dialed up two long touchdown passes to Cooper, a player he knows nobody can cover.
And he knew it was going to work, even when everything was going against Alabama, as millions of people watching on TV and social media saw.
"Coach Kiffin goes with the game, with the flow," wide receiver DeAndrew White said. "He has fun with us on the sideline and makes adjustments when we need to make adjustments. When he calls a play, he expects a touchdown on each play he calls."
Marc Torrence is the Alabama Lead Writer for Bleacher Report. All quotes were obtained firsthand unless otherwise noted.
Follow on Twitter @marctorrence.