It's largely been a quiet offseason so far for the Alabama football team, but that doesn't mean anyone in Tuscaloosa is complaining.
After a spring that saw four arrests and two long-term injuries, a light news cycle in May and into June has been a welcome silence for Alabama fans, coaches and players.
Still, that doesn't mean there hasn't been a couple of headline-makers during that period. Here's a rundown of Alabama's offseason to this point.
To transfer or not to transfer
Depending on who you asked, the Crimson Tide were at least somewhat in the running for two of the offseason's hottest transfer quarterbacks. With no No. 1 starter coming out of spring practice, Alabama could have used the services of a grad transfer who could start right away.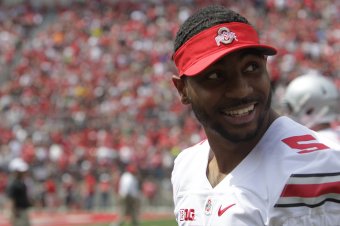 Jay LaPrete/Associated Press

First it was Ohio State's Braxton Miller, the former Big Ten player of the year who was seemingly displaced to third-team duties after the emergence of J.T. Barrett and Cardale Jones.
Miller spent time in Tuscaloosa in May, leading some to question whether he was visiting campus and meeting with coaches. Alabama linebacker and Ohio native Trey DePriest, though, revealed to al.com's Matt Zenitz that Miller was rehabbing with Dr. James Andrews in Birmingham and hanging out with DePriest, a friend, in the meantime.
The further and further the offseason goes along, the more likely it seems that Miller will indeed stay in Columbus for his senior season.
Then, Notre Dame's Everett Golson started poking around, and Alabama naturally came up as a possible destination.
Most notably, ESPN's Brett McMurphy reported that Alabama would be open to adding Golson but that the SEC's restrictive graduate transfer rules would prevent it from doing so.
And that turned out to be the case.
Golson transferred to Florida State, leaving Alabama and other SEC schools without the services of an experienced quarterback because of their own rule.
Nick Saban speaks out on college football change
Sparked by discussion about the SEC missing out on a major transfer, Alabama's outspoken coach made his thoughts clear that all Power Five schools should play by the same rules.
That didn't just have to do with graduate transfers, though.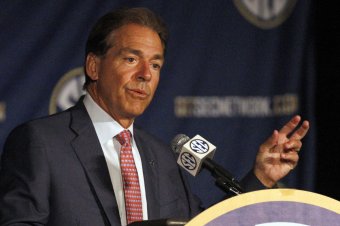 Butch Dill/Associated Press

The SEC also has restrictive legislation on holding satellite camps and at spring meetings passed a rule banning the transfer of players who had previously been kicked out of a school for "serious misconduct."
When asked about that new transfer rule, Saban broke off into a tangent about how he wants to see the Power Five under one umbrella rules-wise.
"What I'm most concerned about—I just think that we should have the same rules in the SEC as all the other big five schools have," he said. "Because now we're not just talking about the SEC. We're talking about having a playoff, no different than the NFL. One division in the NFL doesn't have different rules, different salary caps, different anything, because the league knows that parity is the best competitive balance that you can create.
"So when we pass rules that other people that we have to compete against, if that is really what's best for the young people that we're dealing with here, the student-athletes that we're dealing with, then it should be best for everyone. Or otherwise we shouldn't do it.
"So I'm hopeful that in some kind of way, we'll be able to get the big five together under the NCAA's supervision to try to create rules that we all see in the best interest of student-athletes, which I think we need to be thinking about here."
Recruiting momentum built
Exiting spring practice, Alabama had just six commitments for the 2016 class—not catastrophic by any means, but not ideal for trying to haul in another top class and keep up with some of the other top schools.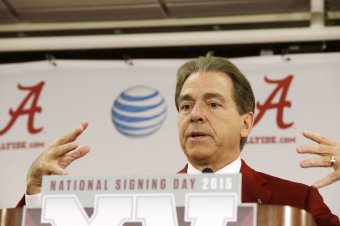 Brynn Anderson/Associated Press

But since A-Day, the Crimson Tide have landed five 2016 prospects and three for 2017.
Of note, Alabama finally landed a 2016 quarterback, when it got a commitment from 4-star dual-threat quarterback Jalen Hurts. It also got a commitment from a top JUCO player in the country, Charles Baldwin, who could start at right tackle next season after Dominick Jackson's departure.
For 2017, D.D. Bowie has the makings of an instant-impact wide receiver when he gets to campus.
You can see Alabama's full list of 2016 commitments here and 2017 pledges here.
Marc Torrence is the Alabama lead writer for Bleacher Report. All quotes and reporting were obtained firsthand unless otherwise noted.
Follow on Twitter @marctorrence.