On Wednesday, Alabama wide receiver Amari Cooper has a chance to open some eyes at the Alabama pro day. Typically, pro days serve mid-tier prospects more than the elite, because so many teams are in attendance it gives them an up close look at the players from a specific school. But does Cooper need a big pro day? He's already considered a top prospect.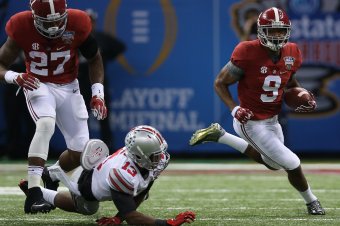 Kevin C. Cox/Getty Images

The answer is a definitive yes. In fact, of all the top prospects in this draft, Cooper might be the one who needs a big day more than any other. The reason being that for the talented Crimson Tide star, his status as the top wide receiver in the draft is tenuous.
What's the difference between being the first wide receiver off the board and the second? It's hard to be certain, but there's a real chance that the Oakland Raiders take a wide receiver with pick No. 4. After that, the next likely landing spot for a wide receiver would be the Chicago Bears at No. 7, but more probable are the Minnesota Vikings at No. 11.
There's a significant difference between being the No. 4 pick and the No. 11 pick, so it would behoove Cooper to fend off West Virginia's Kevin White with a big pro day.
Cooper's talent is not in question. In terms of route running, Cooper is the best in this draft class, and he would have been among the very best of the past two drafts. As this Vine shows, Cooper's ability to shake his defender at the line of scrimmage, then stick his foot in the dirt and square the route is elite.
Amari Cooper route running is icy 😤https://t.co/F2N21oz6EU

— Darious Crawley (@DariousCrawley2) March 4, 2015
Another strength of Cooper's game is his ability to operate once the football is in his hands. Here's another great example of how Cooper can make a talented defense look hapless in a near effortless manner. Lateral agility, burst off the line and power to finish are all on display.
Amari Cooper https://t.co/jgZKFhnejv

— Ndamukong Flakes (@Vaca_Frita) March 9, 2015
The movement toward White over Cooper is evident in mock drafts around the league. ESPN's Mel Kiper Jr. moved White ahead of Cooper in his latest mock draft.
West Virginia WR Kevin White passes Amari Cooper in @MelKiperESPN's Mock Draft 3.0. http://t.co/frsKR9jKBw (Insider) pic.twitter.com/bkFVsG9QUY

— SportsCenter (@SportsCenter) March 5, 2015
In addition, Bleacher Report's Matt Miller has moved White ahead of Cooper as well. On the other side, CBSSports.com and ESPN's Todd McShay have stuck with Cooper as their top wide receiver. Cooper has been my top wide receiver since mid-October, and while I love a lot of White's game, the polish and versatility of Cooper give him a clear advantage.
So, what can Cooper do on Wednesday to change the minds of guys like Miller and Kiper? And more importantly, the minds of those teams in the league who favor the size and physical style of White over his?
The main thing Cooper must do is pick his spots. Cooper can't make himself bigger or taller, so he has to do it with the drills. Cooper already showed at the NFL combine that he has areas of agility that he is superior to White. However, that is to be expected from a player a bit shorter and lighter.
If Cooper wants to open eyes on Wednesday, he can do it with a fast 40-yard dash. Back in March of last year, Cooper ran an unofficial 4.31 40 at the Alabama 2014 pro day, according to Chase Goodbread of NFL.com. Obviously, this is as much legend as anything, but if Cooper could pull a sub-4.4 40 on Wednesday, teams will have to take notice.
It is a given that Cooper is going to catch everything that's thrown at him. This has been the case during his entire career. Even with that, White is charging on him fast. Cooper displaying truly elite speed would marry so well with his skill set that teams would have to take notice.