TUSCALOOSA, Ala.—Alabama should consider itself lucky.
After putting up a 42-21 beatdown of Florida early in the 2014 season, it doesn't have to see the Gators again until 2021 because of new SEC scheduling protocols with an eight-game conference schedule.
With the Florida of recent history, that would seem to be a team you would like to face regularly. Not anymore.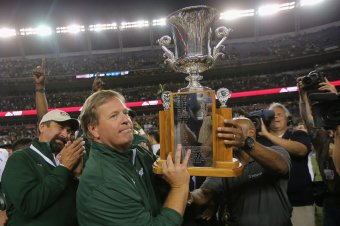 Doug Pensinger/Getty Images

The Gators announced the hiring of Jim McElwain, a former Nick Saban offensive coordinator, as their newest head coach. If McElwain's past is any indication, he should have Florida back up to speed in short time, competing for SEC and national championships year in and year out.
It will be a case of master vs. student in the toughest league in college football.
And while Alabama and Florida won't meet in the regular season for another seven years, it looks like a safe bet to say that they'll see each other before that in the SEC Championship Game.
That could just be what the Alabama-Florida rivalry needs to rise to the level at which it once stood.
McElwain created almost an "Alabama lite" at Colorado State, where he coached for three years after leaving the Crimson Tide with two national championship rings.
The Rams ran a similar offense as Alabama did—a one-back, power run base that works out to play action and short throws from there. He even brought former Alabama running back Dee Hart with him, who revitalized his career, rushing for 1,254 yards and 16 touchdowns this season.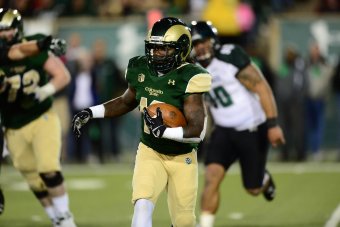 USA TODAY Sports

Colorado State went from winning four games in his first year there to 10 this year, with the possibility of one more coming in a bowl game. It was a remarkable turnaround for the coach who studied under the best.
"I did watch one game. I think it was the Colorado game early in the year, and Dee Hart played fabulous in the game," Saban said earlier this season. "Mac's a great coach, did a great job for us and he's obviously done a great job for them. I don't get to watch their games much because of our games and all that type stuff. But I always check the scores of all the guys. (Sports Information Director) Jeff (Purinton) gives me the scores of all the guys after our games that have worked for us before and how they did that particular day. We're really, really excited that Colorado State is having a great year and Dee Hart's doing well for them, and Jim McElwain is doing a fantastic job there."
Now, Saban's protege of sorts is in his own league.
Saban on Jim McElwain getting the Florida job: "It's a fantastic opportunity for Mac. He did a really great job for us."

— Charlie Potter (@Charlie_Potter) December 5, 2014
With the success McElwain has had in his career, there's no reason to think he won't raise Florida to the level it has seen in the past under Urban Meyer and Steve Spurrier. The Florida of powerful offenses. The Florida of stifling defenses.
And the Florida that has played some classic games against Alabama.
It started in 1992, with the inaugural SEC Championship. Antonio Langham returned an interception for a touchdown late in the game, a play ESPN would later dub "The Play That Changed College Football."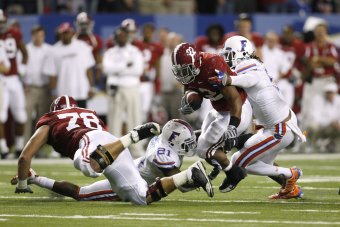 Chris Graythen/Getty Images

The Crimson Tide and Gators met five times in the SEC Championship Game in the 1990s, with Alabama winning two and Florida taking three.
Things really ramped up late in the 2000s, again in Atlanta.
The pair met back-to-back in 2008 and 2009, with Florida winning the first and Alabama getting revenge the second year. Both teams went on to win national titles in those respective years.
It makes sense that they would meet so often in the SEC Championship Game. Alabama and Florida are both the powerhouses of their divisions. It made for an entertaining inter-divisional rivalry between two teams that don't necessarily play every year.
The Crimson Tide will have been back to Atlanta twice since those two meetings after Saturday. The Gators have yet to make a return trip.
But with McElwain in place, that should change quickly. And if Alabama keeps up its streak, the two are bound to meet again. And restore a great college football rivalry back to its glory.
Marc Torrence is the Alabama lead writer for Bleacher Report. All quotes were obtained firsthand unless otherwise noted.
Follow on Twitter @marctorrence.