The panic of August was felt in full force by Alabama fans on Monday morning when one of the primary contenders for the quarterback job and last season's primary backup went missing during the Crimson Tide's morning practice.
Senior Jake Coker, the former Florida State signal-caller and presumed No. 1 in the battle to replace Blake Sims for the defending SEC champs, wasn't present during the open portion of practice, according to Aaron Suttles of TideSports.com.
It turns out there's a reason for his absence.
"Jake Coker has a minor foot injury that we think will keep him out of practice for several days," head coach Nick Saban said in a statement emailed by Alabama. "Our physicians anticipate a full recovery."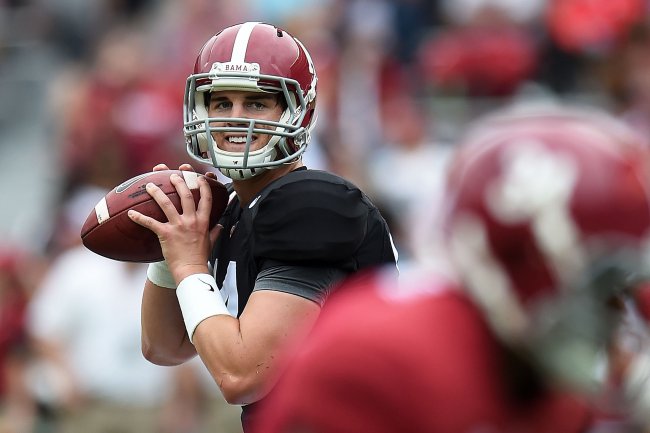 Stacy Revere/Getty Images

Alabama QB Jake Coker
The good news is that Coker's injury doesn't appear to be too serious, but missing several days of practice at this point during fall camp could dramatically change the landscape of the Alabama quarterback battle.
Coker, junior Alec Morris, sophomore Cooper Bateman, redshirt freshman David Cornwell and true freshman Blake Barnett are all vying for the top spot on the depth chart.
As ESPN.com's Alex Scarborough notes, that battle is wide open.
No question the injury is a setback for Coker. But none of Bama's QBs have separated themselves. Job is wide open and could be for a while.

— Alex Scarborough (@AlexS_ESPN) August 17, 2015
Alabama entered Saturday's scrimmage—the first of the fall—with a rough outline of the depth chart, with specific players being tabbed as first-, second- and third-string quarterbacks, according to Matt Zenitz of AL.com. It's safe to assume Coker was either the first- or second-teamer heading in and Cornwell, who entered fall camp as the No. 2, is likely in the mix after taking many of the second-team snaps early in fall camp.
Coker's absence is going to be huge for Cornwell because while others have been the buzz of fall camp—including the true freshman Barnett—Cornwell still has the talent and some rather significant time this offseason as Coker's primary competition to fall back on in the race to be the No. 1.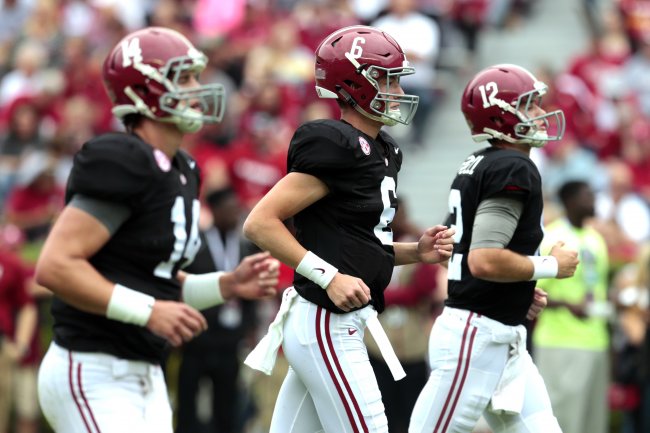 Butch Dill/Associated Press

Alabama QBs Jake Coker (left), Blake Barnett (center) and David Cornwell (right)
The 6'5″ 240-pounder from Norman, Oklahoma, came to Alabama in January 2014 as a 4-star prospect. But a torn ACL suffered during his senior season in high school and an ankle injury suffered last spring prevented him from showing the staff what he's made of until spring practice 2015.
During that session, Cornwell elevated himself into the clear-cut No. 2 midway through spring, which speaks volumes about how much he impressed the staff.
Whether he's fallen off, stayed steady at No. 2 or was pushing to be No. 1 during fall camp, now's the time to make a statement and make a strong case for the starting job prior to the neutral-site showdown with Wisconsin at AT&T Stadium in Arlington, Texas.
Prolonged, significant work with the "ones"—however much he gets—will allow Cornwell to earn (or perhaps regain) the trust of the staff and the rest of this teammates. Plus, when he goes against the Tide's first-team defense, he'll get a good look at one of the nation's best units with Alabama's best players around him.
As ESPN.com's Chris Low notes, the second scrimmage was the one in which Sims essentially solidified the job last year.
Needless to say, 2nd scrimmage will be huge in Alabama's QB battle. It's where Sims made his move a year ago and won the team.

— Chris Low (@ClowESPN) August 17, 2015
That makes it the time for Cornwell to shine, whether Coker is out, limited or a "full go."
Coker's injury has transformed the Alabama quarterback battle from a marathon into a sprint. If Cornwell can hit full stride now, he could win the job by the end of the week.
If he doesn't—or even worse, can't—it'd be an indication that the quarterback play in Tuscaloosa is mess.
Quotes were obtained firsthand unless otherwise noted. Recruiting information courtesy of 247Sports. Statistics courtesy of cfbstats.com. Barrett Sallee is the lead SEC college football writer and national college football video analyst for Bleacher Report as well as a host on Bleacher Report Radio on SiriusXM 83.
Follow Barrett on Twitter: @BarrettSallee.