Up three scores in the second half against Southern Miss, No. 2 Alabama had some back luck that could come back to hurt it in a big way.
Starting free safety Nick Perry drilled Southern Miss wide receiver Kyle Foster well after a pass was thrown over his head. Perry was called for targeting, and after a review the play was upheld.
It was the right call, no doubt.
Perry's helmet strikes Foster's helmet as Foster is on the way down from jumping up to catch a pass. Perry had plenty of time to pull up, but didn't, and was rightfully sent from the game.
He even took to Twitter immediately after his ejection to apologize to the fans.
My apologies BamaNation.. My boys will take care of business #NoFlyZone

— Real Tim Riggins (@NIckPerry_27) September 14, 2014
Head coach Nick Saban acknowledged that it was the right call.
Saban said he believes Nick Perry's hit was helmet-2-helmet, but doesn't think he did it on purpose. "You have to change your launch point."

— Marquavius Burnett (@Marq_Burnett) September 14, 2014
But this play has consequences that extend far beyond a half of football in an out-of-reach game against a group-of-five opponent that Alabama eventually won, 52-12.
Since the play occurred in the second half, Perry will also miss the first half of Alabama's SEC opener against Florida on Saturday. That's not at all what the Crimson Tide needed in a secondary that has had its share of ups and downs this season and is already limited by injury.
Alabama doesn't have much in the way of depth behind Perry.
When he left the game, Geno Smith moved from "Star" back to free safety, while Maurice Smith, a cornerback, came in to play the Star spot. Geno Smith hasn't had much playing time at free safety, and Maurice Smith's natural spot is at corner.
The two Smiths will have their work cut out for them at practice this week, preparing for full-time duties, at least in the first half.
Saban: Losing Nick (Perry) for a half next week (Florida) will create some situations for us at safety. … We're getting a little thin there.

— Alex Scarborough (@AlexS_ESPN) September 14, 2014
Alabama's quarterback battle has, understandably, been in the spotlight in the early goings of the 2014 season, but its secondary has been shaky from the get-go.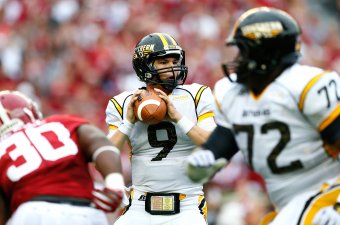 Kevin C. Cox/Getty Images

It gave up 365 yards to start the year against West Virginia, which exploited its 6'3″ receiver Kevin White in mismatches against the Crimson Tide's undersized cornerbacks. It was really the only game Alabama has played against a legitimate offensive threat, and it largely failed that test.
Even Southern Miss had success, though in spurts, against the Alabama secondary on Saturday. Golden Eagles quarterback Nick Mullens finished the day with 207 passing yards, hardly gaudy numbers but on par with his games against Mississippi State (212) and Alcorn State (208).

The defense has also forced just one turnover, recovering a fumble against Florida Atlantic, and has yet to record an interception. That will definitely be a point of emphasis this week.
Saban mentions lack of turnovers through first 3 games. Alabama has forced just one. Says it's being emphasized.

— Andrew Gribble (@Andrew_Gribble) September 14, 2014
And the secondary will already be at less than full strength.
Safety Jarrick Williams, who was a rock at the Star position and was especially physical in run support, is out with a broken bone in his foot. Cornerback Eddie Jackson—who took the place of the 5'11" Bradley Sylve, who was burned several times by White in the opener—left the game, though Saban said afterwards that it likely won't keep him out.
Saban: Eddie Jackson bruised his quad. Nothing serious.

— Aaron Suttles (@AaronSuttles) September 14, 2014
Which brings us to Florida.
It's hard to get a read on the Gators, since they've played only one game after lightning cancelled their season opener against Idaho. In a win over Eastern Michigan, Florida quarterback Jeff Driskel hit 31 of 40 passes for 248 yards and a score in about three quarters of play. The Gators moved the ball well—as they should have—against that level of competition.
Alabama struggled against teams that could throw the ball last season, and through three games, it hasn't shown that those issues are behind it.
And as a team with a dangerous quarterback comes to Tuscaloosa next week for Alabama's SEC opener, losing one of its starting safeties hurts even worse.