The best teams in the SEC are in the West division. It's really just that simple. As the champions of the conference's West division, the Alabama Crimson Tide survived a rigorous regular-season schedule with just one loss. After running that gauntlet with just one blemish, the Associated Press felt that Bama earned the top spot.
On Saturday, the Tide will make easy work of the Missouri Tigers to claim the SEC crown and put a stamp on the top seed in the inaugural College Football Playoff.
At 10-2, the Tigers are a good team that would be a handful for most squads. Unfortunately for them, Alabama is not most teams. In having played one of its worst games of the season against the Auburn Tigers in the Iron Bowl, Alabama made perhaps its biggest statement.
It proved it can win against a quality team even when it isn't playing its best football. 
Quarterback Blake Sims threw three interceptions—something that ESPN Stats & Info says has never happened at Alabama during the Nick Saban era—and the Tide defense gave up 456 passing yards to Nick Marshall:
Blake Sims is the 1st QB under Nick Saban at Alabama to throw 3 interceptions in a game.

— ESPN Stats & Info (@ESPNStatsInfo) November 30, 2014
Marshall is not known for his throwing prowess, yet he set his career high for passing yards by 117 yards. It was just Marshall's second career game with 300 or more yards through the air. SportsCenter noted Alabama's dominant second-half performance in the Iron Bowl, specifically highlighting Amari Cooper:
ROLL TIDE! No. 1 Alabama dominates 2nd half to beat Auburn in Iron Bowl, 55-44. Amari Cooper: 224 Rec yds, 3 TD pic.twitter.com/EiolJYzli4

— SportsCenter (@SportsCenter) November 30, 2014
Still, Alabama found a way to win 55-44. That way was largely paved by the excellent play of wide receiver Amari Cooper. He had 13 catches for 224 yards and three touchdowns. It was his fourth game with at least 10 catches and third with at least 200 yards receiving.
The Tide star continues to not only make his case for an invite to the Heisman Trophy ceremony but also as the possible No. 1 pick in the 2015 NFL draft.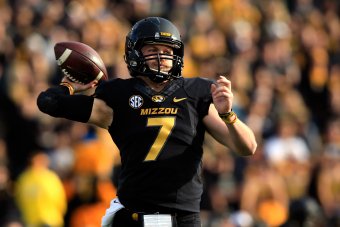 Jamie Squire/Getty Images

As good as the Tigers have been all season, they don't have the likes of Marshall as a dual threat at quarterback. With all due respect to sophomore quarterback Maty Mauk, he won't require nearly as many defensive adjustments and attention as Marshall.
Likewise, the Tigers don't have a deep threat like Sammie Coates to stretch the Tide defense. In the Iron Bowl, Coates had five catches for 206 yards and two long touchdown passes (68 and 34 yards).
Senior wideout Bud Sasser has had a solid year, but he isn't the deep threat that Coates is.
Defensively, Missouri does bring a lot to the table. Defensive end Shane Ray is a likely first-round pick in the draft, and he will have to be accounted for by the Bama offensive line. On the season, Missouri is ranked 16th in the nation in total defense.
That's obviously not too shabby. Alabama, however, is ranked 11th in this category, and it has managed this ranking while playing a tougher schedule than the Tigers.
On both sides of the ball, Bama is better. It will prove it on Saturday as the Tide rolls into the CFP as the top-seeded team in the land.