ATLANTA — One thing became abundantly clear during Alabama's 55-44 win over Auburn last weekend in Tuscaloosa: Quarterback Blake Sims can be rattled.
Sims threw three interceptions and Auburn built a 33-21 lead early in the third quarter before he got it together, hooked up with wide receiver Amari Cooper two more times and led the Tide to the big win.

Kevin C. Cox/Getty Images

Alabama QB Blake Sims
If Missouri has a chance to spring the upset at the SEC Championship Game on Saturday, it's going to have to rattle Sims again.
The good news for the Tigers is that they have the personnel to do just that.
Defensive end Shane Ray has an SEC-best 12 sacks this season, while fellow defensive end Markus Golden has 8.5. The duo is better than anything Auburn had in terms of getting after the quarterback, and Alabama head coach Nick Saban knows the kind of challenge Ray and Golden present.
"The challenge is, can you keep a hat on a hat with these guys and not let them get the kind of penetration to create the negative plays and the disruptions to your offense?" he said on Friday. "The way they play defense, when they get you behind on down and distance, that plays right into their hands. It's going to be really important to be able to control the line of scrimmage and not allow these guys to get a lot of penetration with their movement and their quickness."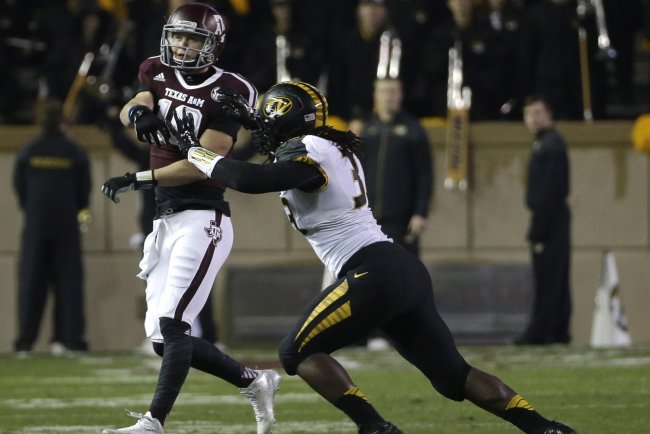 David J. Phillip/Associated Press

Missouri DE Markus Golden
The Crimson Tide have given up 11 sacks all year—the fewest in the SEC. It'll be strength vs. strength in the trenches when Alabama has the ball in passing situations.
One man in charge of keeping them at bay is freshman offensive tackle Cam Robinson. Robinson banged up his shoulder last week against Auburn but has practiced this week and should be good to go Saturday vs. the Tigers.
"I don't think anybody is really 100 percent at this time of year," Saban said. "He has practiced all week and we do expect him to play in the game."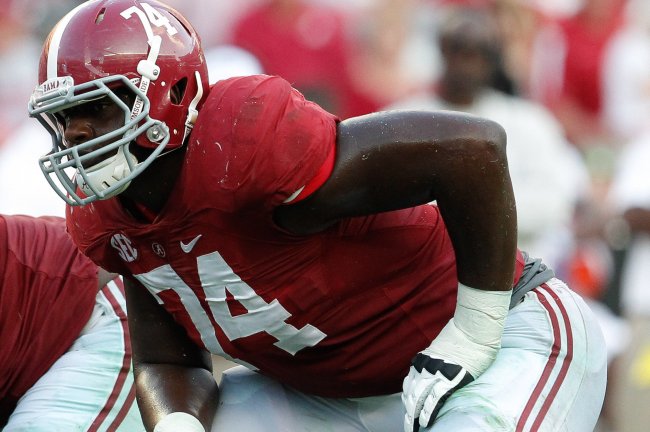 USA TODAY Sports

Alabama OT Cam Robinson
Missouri's been able to get after the quarterback, but don't tell head coach Gary Pinkel that it matters, because he downplayed his team's ability to get pressure on the quarterback on Friday.
"It sounds good that we get to the quarterback a lot." he said. "We have. But they've done a great job protecting. It's going to be interesting to see who wins that battle as the game goes on."
This is where the game will be won and lost, and Missouri absolutely has the horses to get after Sims. When that happens, the ball will be in Crimson Tide offensive coordinator Lane Kiffin's court to make an adjustment.
As D.C. Reeves of TideSports.com noted earlier this week, the protection schemes in the Alabama offense have evolved over the season to a point where the role of running backs and tight ends in pass-blocking is almost nonexistent:
OL/Sims trusted now. Only blocked with 5 on 22/31 dropbacks vs. Aub. In contrast, Bama blocked with 6+ 18 of 21 times in 1st HALF vs. UF.

— D.C. Reeves (@_DCReeves) December 2, 2014
How much will Alabama's offense change if five isn't enough?
That will be the key to the game.
How many sacks will Missouri have on Alabama?
Missouri will force Sims to scramble and make quick decisions on the run, as he has done so many times throughout the season—15-minute stretch in the Iron Bowl notwithstanding.
If he can not only find Cooper, but tight end O.J. Howard, a running back out of the backfield if he's not blocking and other safety valves, he should find success.
Missouri has the talent, and whether Robinson is healthy or not, there will be times when Golden and Ray get into the backfield and force Sims to make quick decisions. It'll be up to Sims to make sure the events that allowed Auburn to build a lead in the Iron Bowl don't repeat themselves.
If they do, that'll be Missouri's best shot to spring the upset and create more college football chaos during the final week of the season.
Barrett Sallee is the lead SEC college football writer and video analyst for Bleacher Report as well as a co-host of the CFB Hangover on Bleacher Report Radio (Sundays, 9-11 a.m. ET) on Sirius 93, XM 208.
Quotes were obtained firsthand unless otherwise noted. All stats are courtesy of cfbstats.com, and all recruiting information is courtesy of 247Sports. Follow Barrett on Twitter @BarrettSallee.