TUSCALOOSA, Ala. — Alabama-LSU is always a matchup of two very talented teams. Both recruit at a very high level, and it's evident on the field.
According to Andrew Gribble of al.com, LSU has pulled in a top-six Rivals recruiting class six times since 2007. Alabama has had the No. 1 class since 2009.
So this has also historically been a close game. The regular-season margin of victory has been single digits for every year that Nick Saban has been at Alabama except for last year, when Alabama won convincingly by 21 points.
That could be the case yet again this year.
Despite these two teams being so close talent-wise on paper, the Crimson Tide match up well with what LSU wants to do. Where the Tigers have had success this season, Alabama has been stout defensively. And the Crimson Tide's offense can present some problems to the Tigers defense.
Let's take a closer look at three scenarios.
When LSU runs the ball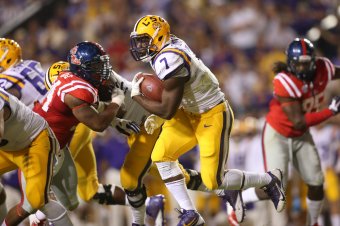 USA TODAY Sports

This has been the Tigers' bread and butter this season. It's a power run game that harkens back to the SEC of several years ago, before uptempo, spread offenses infiltrated the league.
LSU is running the ball 48.67 times per game, tops in the SEC. It rushed for three touchdowns each against Kentucky and Florida and piled up 264 on the ground against a stout Ole Miss defense en route to a 10-7 upset.
For all the talk about Alabama adapting its defense to stop spread attacks, this is still very much a team built to stop the run.
The Crimson Tide sit at No. 1 in the SEC in run defense, allowing just 78.13 yards per game. The next closest team, Florida, allows an average of 121.
In its other game against a similarly-built offensive team (Arkansas), Alabama had a lot of success. The Razorbacks had just 89 yards on the ground that night, easily their lowest total of the season and well below their season average of 248.22 yards per game.
When LSU throws the ball

Chris Graythen/Getty Images

If there's a weakness that LSU could exploit against Alabama, it would be the Crimson Tide's secondary.
Alabama is allowing 199.1 yards per game, good for No. 29 in the country. Not bad numbers by any stretch, but not at the level the Crimson Tide would like to play defense.
They've shown a propensity to give up big plays at inopportune times.
Alabama gave up 8.1 yards per attempt against West Virginia and Ole Miss, two teams that threw the ball very well against it this year, one of which pulled an upset.
Unfortunately for LSU, as the Tigers' run game has come into focus, they'v thrown the ball less and less.
In their last four games, the Tigers have thrown for fewer than 200 yards. They had only done that once in the previous five games.
So LSU will need to elevate its passing game significantly to move the ball against Alabama.
LSU's weakness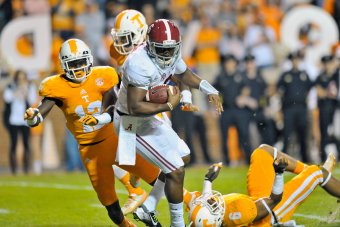 USA TODAY Sports

In somewhat of a shocker, Alabama is throwing the ball really well this season. Its team passer rating is tops in the SEC. Blake Sims has the second-highest quarterback rating of anyone in the country behind Heisman favorite Marcus Mariota.
LSU should be able to somewhat neutralize this threat and make this a wash. It is holding opponents to a passer rating of just 96.37, best in the conference.
But where the Tigers defense has been vulnerable is in the run game, specifically against running quarterbacks.
It's given up at least 100 yards rushing to two quarterbacks this year: Auburn's Nick Marshall and Mississippi State's Dak Prescott. Prescott's 56-yard touchdown run against LSU was one of the early defining moments of the season.
Florida's Jeff Driskel also picked up 71 yards on the ground.
That plays right into Sims' hands.
Sims is averaging 5.43 yards per carry, which is second in the SEC among quarterbacks—behind Marshall and just ahead of Prescott. He hasn't run it quite as much as the other two but has had rushing touchdowns of 43 and 28 yards in his last two games.
He could have another big game on the ground in Baton Rouge.
Marc Torrence is the Alabama lead writer for Bleacher Report. All quotes were obtained firsthand unless otherwise noted. All stats come from CFBStats.
Follow on Twitter @marctorrence.